Deliver an interactive experience for your life insurance clients
Say goodbye to phone tag and cumbersome paperwork. Say hello to the world's first and only hub for life insurance agents to brand a microsite, provide quotes in real time, and access CRM functionalities all in one place.
Interact with your clients from your own digital storefront.
Meet the digital life insurance experience
iLife puts the power in your hands. Create a custom, branded microsite with just a few clicks — no training and no coding. Life insurance agents instantly have a scalable, online business that can reach prospects anywhere, anytime.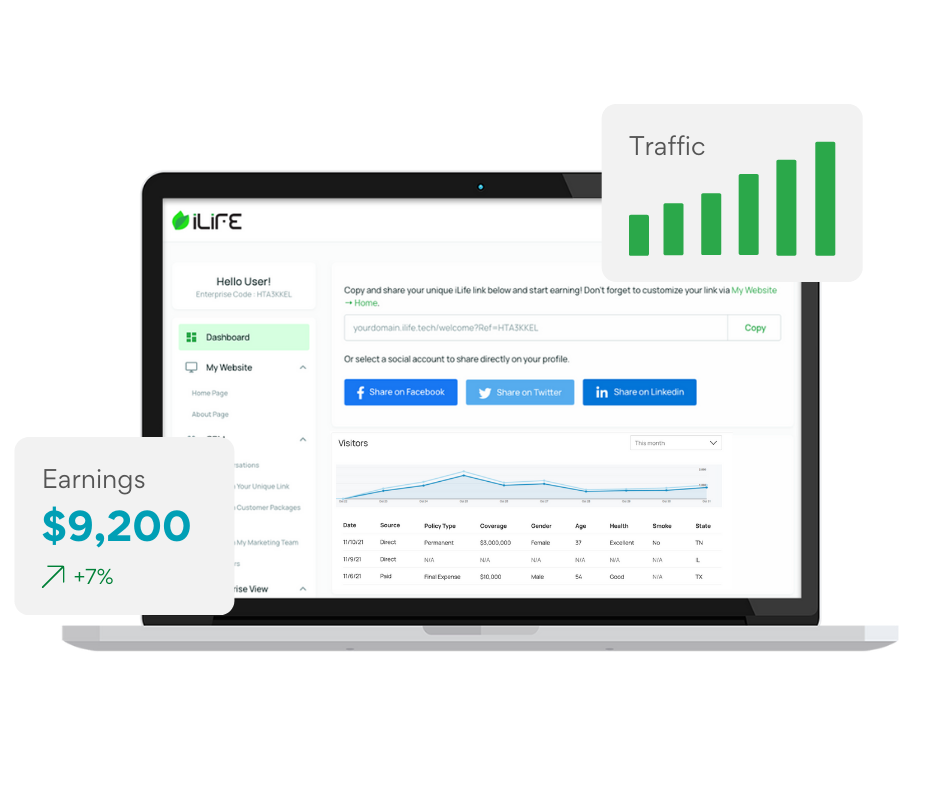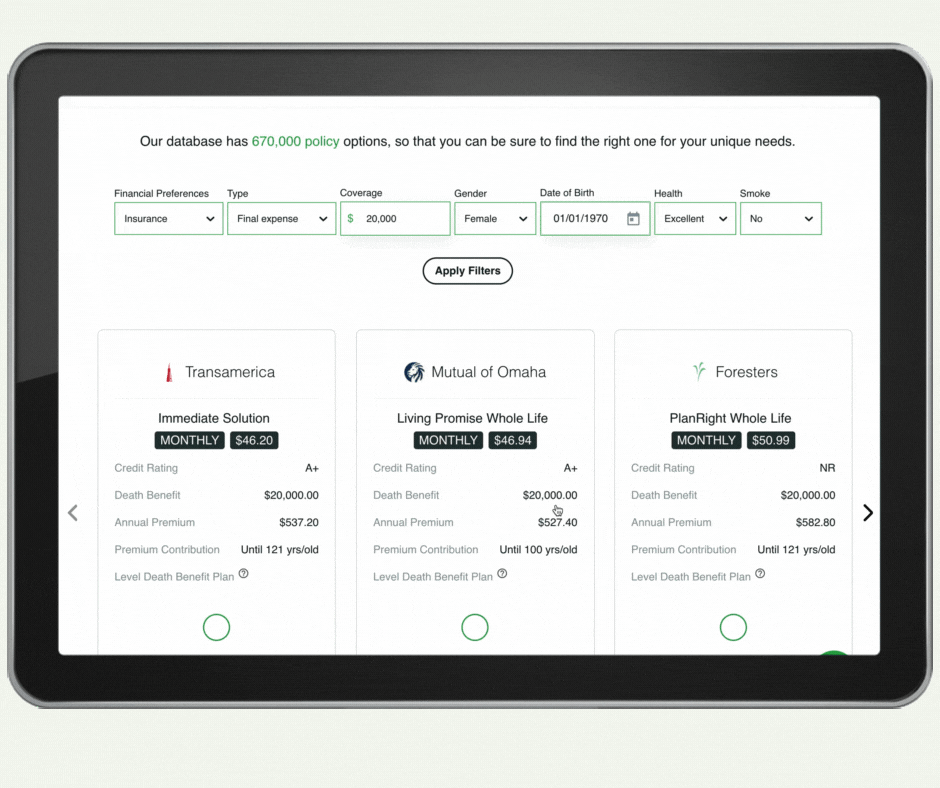 A life insurance browsing experience people love.
Give clients the online shopping experience they crave
With iLife's simple, intuitive browsing experience, prospects answer a few questions and are presented with the best products for their needs. Customers answer onboarding questions, compare plans, submit pre-applications and health records, and communicate with you all within the platform.
An experience designed for life insurance agents.
Engage with clients in a meaningful way
Stop wasting time traveling to meetings or making life insurance sales pitches to cold leads. Engage with prospects through Live Chat, boost your productivity with CRM functionalities, and gain actionable insights from analytics dashboards.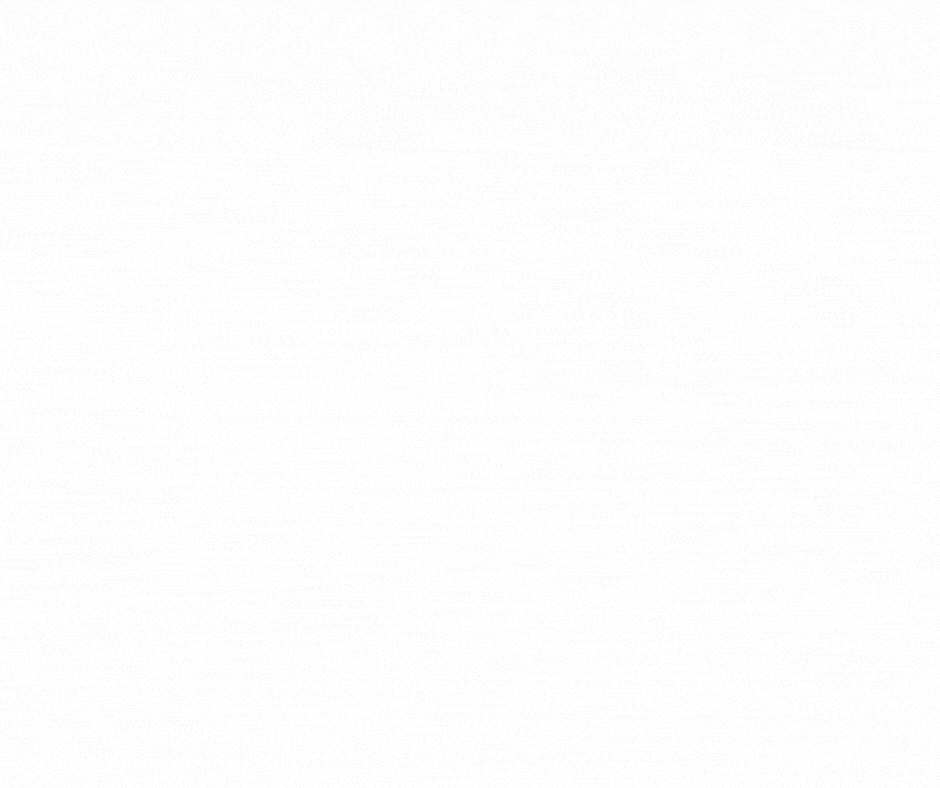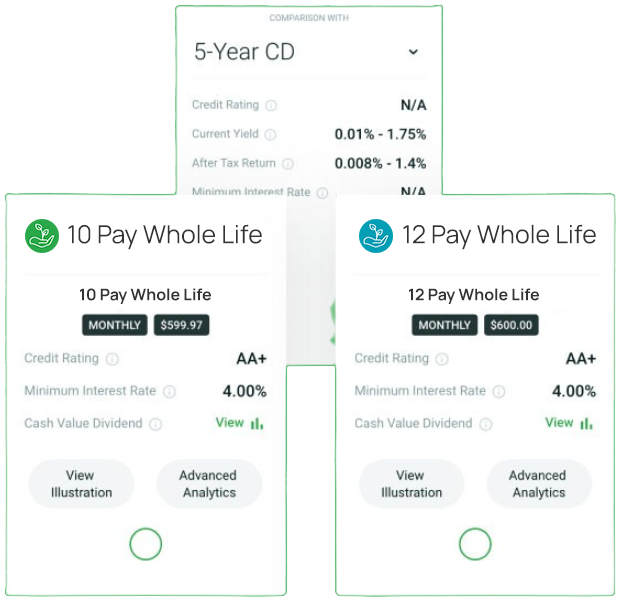 Reduce back-office expenses while saving time.
Thousands of options that save your clients money
Instead of wasting time completing tedious paperwork, now you can instantly provide over 670,000 life insurance policy options and multi-carrier applications all in one place. It has the answers your customers are looking for, and all you have to do is get them there.
Agents retain their books and 100% commission.
You read that right. iLife is committed to your success. We charge a small monthly licensing fee, and you get to keep all of your commissions. That's it. No strings attached.

I highly recommend iLife for insurance agents interested in simplifying the process of underwriting and closing new life insurance policies. Whether you're an agency owner or an independent agent looking to sell more life insurance, iLife will serve you wonderfully!
David Duford
As a broker selling life insurance the traditional way for years, I knew the pain points in the process. Quotes, applications and underwriting turnaround times were incredibly time consuming and frustrating for both the agent and client alike. iLife's platform streamlines and simplifies the life insurance sales process from quote to bind, freeing up our time to be more productive. The data that is accessible in an instant is more comprehensive than I have ever seen. iLife's technology is at the forefront of insurtech and where this industry is heading.
Jessica Lepore

iLife is one of the greatest steps forward for our industry. It frees the consumer and the advisor of the archaic and burdensome process of how life insurance is shopped and advised.
Geoffrey Kaltenbach