Access Marketing Tools Altogether for Maximum Convenience
iLife's Marketing Hub interconnects easy-to-use email and social media posts with our other host of features to create a single seamless experience for agents.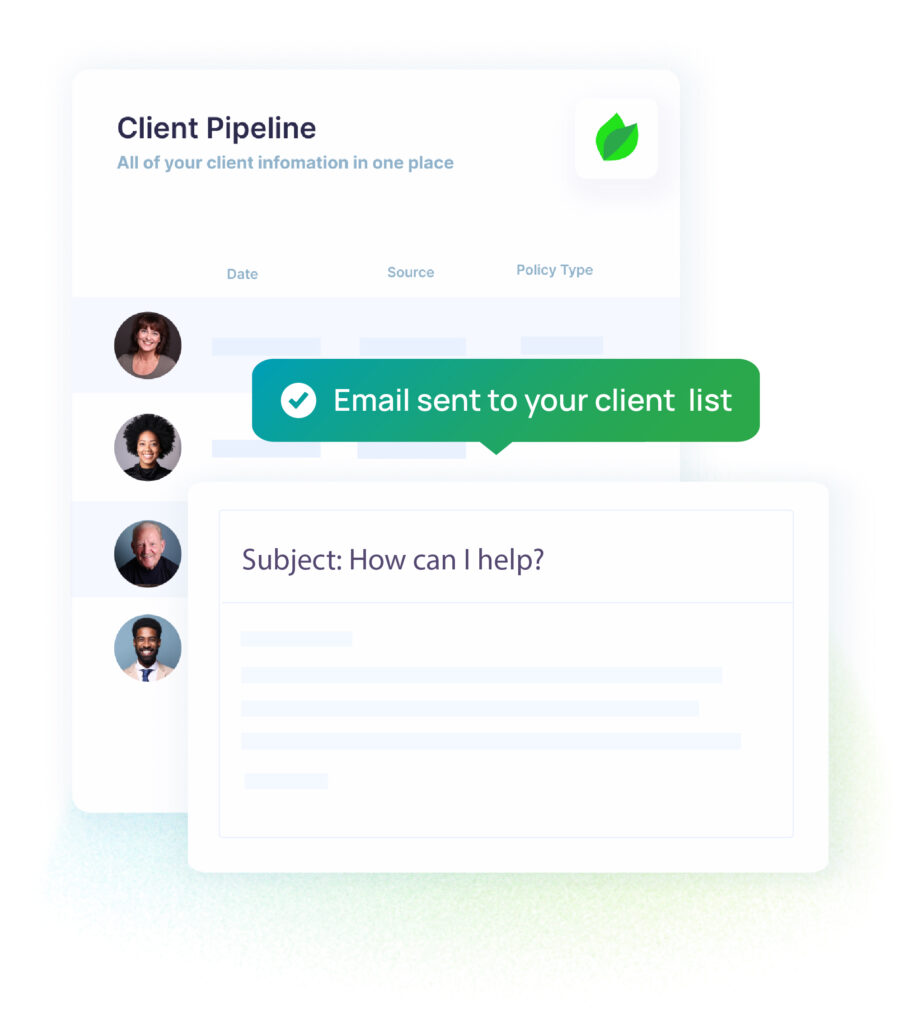 A Single, Unified Experience
The Marketing Hub works seamlessly with the rest of iLife's suite of features to create an incredibly smooth and efficient marketing experience.

Agents can use both email and sms marketing to contact new clients and drive them back to their iLife Website to close their business.

Directly email or text clients and share content on social media. Save time by using marketing content designed to improve your business, generate leads, and keep track of your marketing efforts in one place.
Send Client Messages with Ease
Quickly upload your contact list into the CRM and create contact lists to message them in seconds and begin driving traffic to your life insurance website.
Or, purchase life insurance leads from the iLife store and contact them instantly.
When equipped with these tools, agents are not only able to more accurately market to potential leads but more effectively engage with clients throughout the sales funnel by remaining in constant communication.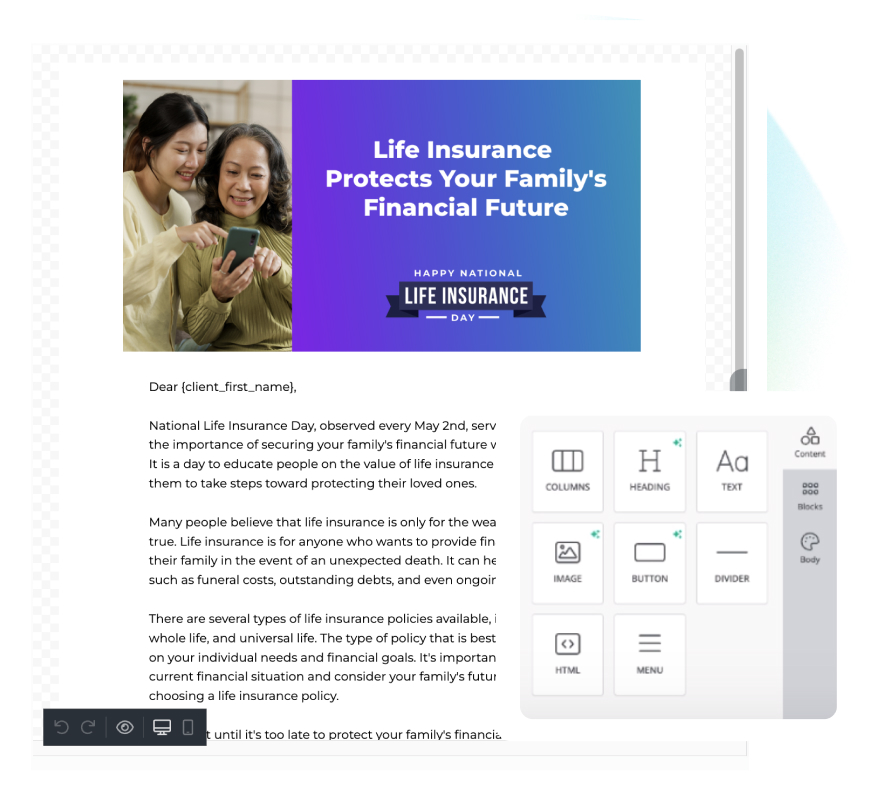 Drag-and-Drop Email Editor
Show off your unique brand by sending stunning professional emails without coding or design experience. The Drag-and-Drop Email Editor is easy to use and seamlessly integrated into iLife's CRM, eliminating the need for additional marketing tools.
Create emails in minutes with images, links, and personalization tokens
Our fully customizable templates allow you to showcase your unique brand 
Add personalized tokens to send tailored messages
Learn what emails are most effective by reviewing metrics
Learn how iLife can help your business thrive
Marketing Tools to Fuel Website Traffic
Segment By Client Status

Within the iLife CRM, agents can view exactly where all of their prospects are in the sales funnel.
This organized list of statuses tells them whether they've selected a policy, been approved or declined by a carrier, are under review, etc, which allows agents to filter them depending on their stage and then email or text them.
Share Ready-Made Content
The Marketing Hub is a collection of pre-made marketing content created to improve your life insurance marketing.
Using content designed specifically for life insurance marketing, you can attract prospects to your site through your social media and email marketing. Spend less time worrying about content and more time connecting with clients.
The Marketing Hub enhances overall marketing effectiveness, improves customer engagement, and helps life insurance teams and organizations achieve their sales and marketing objectives.

The Marketing Hub is simple to use for sending emails and posting on social media in one place.
Emails: You can automatically send or schedule premade emails to your chosen contact lists. You also have the option to customize these emails with our email builder. 
Social Media: In the iLife platform, you can post premade images and their accompanying captions directly to your social media profile of choice. 
The Marketing Hub helps facilitate personalized marketing, campaign tracking, and enables a more collaborative and efficient approach to customer relationship management for your teams.
"Amazing Service. iLife has a great marketing tool."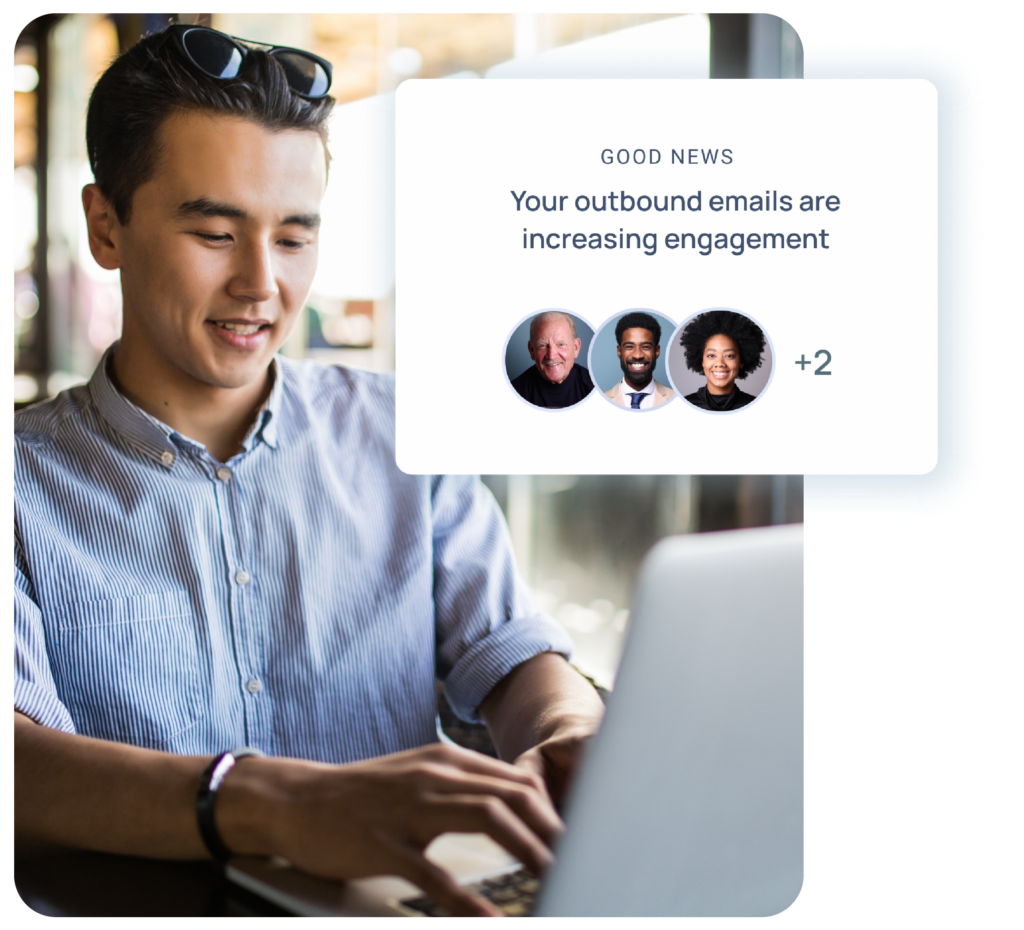 Engage with Confidence Using Email and SMS Marketing Tools
The sales funnel is filled with steps where communication between agents and clients can break down. Don't take the risk of losing business. Incorporate our Marketing Hub into your company today and see the results yourself.